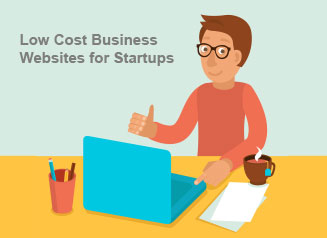 In the start-up phase of launching a new business, it is often the case that marketing and advertising are necessary to gain momentum both offline and online, with internet presence being at the forefront of the venture.
A company website is THE major marketing factor
Telephone, e-mail, word-of-mouth advertising, networking – are great and diverse instruments to gain new customers and interested prospects to sell to. However, your website is one of those instruments which works for you 24/7 and knows no time zones. In addition, the website supports all other avenues of marketing and even helps them enormously.
Before the official start, one can start with a minimally equipped website to inform the people in their network about the new company. Standard ways of implementing this are landing pages which take or collect form data from potential customers (such as an email to be notified when the full site is up and launched).
Build a company with a company website
In the long run, a company's website can be the ultimate customer acquisition tool. It tracks, it logs, it markets, and it informs. But only if done correctly. When planning a company website, these content points should be considered and expanded over time:
Communicate clearly what you want to offer to the market
Professional design of the company website (logo, image material, etc.)
Lots of content for technical subjects in blog format (SEO factor)
Distribution of the company's website by means of other social media channels relevant to the target group (for example via a Facebook fan page)
Ensure good networking (and linking) with other relevant sites, content partners
You do not necessarily win customers with a company website overnight, but it is a way to build up your business sustainably.
Cheap ways to your own company website
A lot of start-ups move today with their ideas on the Internet. The technical knowledge for a solid internet presence should undoubtedly exist here. But what about founders who focus on more traditional branches and do not have programming skills in-house?
Startups and freelancers alike prefer frameworks like WordPress because of its open source nature and ease of use. After it is installed and equipped with a design theme, the system can be relatively easy to operate. One other benefit is that there is no lack of designs, free, paid or unique.
WordPress is a blog system and not a company website. In order to revert it to the company website, the installation of a number of plug-ins is necessary. For the installation to remain secure, regular updates are required. Often the theme designer will leave footer links and for this reason, paying for your theme will probably assist your brand.
If you have the necessary curiosity, you can certainly acquire this knowledge and thus open up a very wide range of possibilities. With the first installation of the platform you can, of course, also hire a service provider for support or custom functionality, if the vast library of plug-ins doesn't help you achieve the look and feel you require.
Homepage building kit systems
Other variations of content management systems, hosted typically by a hosting vendor, ensure that the technology is not left to the user. These are sometimes referred to as "building block" or "drag and drop" systems. They are easy to use and require even less skill than WordPress, but some complain about horrible layouts and poor source code were the price for their simplicity. Newer generations are more secure and capable systems.
In fact, these tools have made a big leap forward with the Web 2.0 movement. These tools provide a library of template designs, which can be customized in many places using editors and adapted to the corporate design goal you're looking for.
Unlike open source systems, the provider stands for its product with personal support which, for the not-so-budget conscious, can provide the highest level of quality and value. Remember, you almost always get what you pay for. And in the case of websites, you can pay with money, simplicity, or both.